Power BI (Microsoft)
Power BI is a suite of business analytics tools for analyzing data and sharing information. Power BI dashboards provide business users with a global view with their most important metrics in one place, updated in real time and available across their devices.
Power BI provide:
A data discovery tool– With a few clicks, users can explore the data on which their dashboard is based using intuitive tools that make it easier to find answers.
Dynamic Dashboards– Facilitates dashboard creation with hundreds of connections to popular business information management applications, complemented by predefined dashboards that allow be quickly operational.
Mobile Ready– you will be able to access your data and reports from anywhere, using Power BI Mobile applications, which update automatically with any changes to your data.
A data centralization point – Power BI can unify all the data in your organization, whether it is in the cloud or stored locally.
Data security– The best-in-class security and governance features built into Microsoft Azure ensure the security of your data.
The different tools are:
Power BI Desktop: free tool for developing dashboards and reports
Power BI Mobile: free smartphone / tablet application for viewing dashboards
Power BI Pro: paid cloud service (paying € 8.40 / users / month) allowing the sharing of dashboards but also collaboration between teams, automatic data refresh, notifications, security and integration with other Microsoft tools like Office 365.
Power BI Report Server (paid): lighter version of Power BI Pro allowing to host dashboards in your internal company infrastructure.
For privacy reasons YouTube needs your permission to be loaded. For more details, please see our
Privacy Policy
.
I Accept
We are Microsoft Power BI certified partner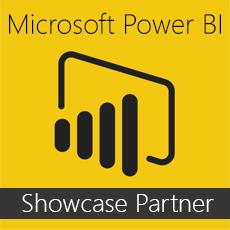 Need help with Power BI ?
Fill out the form and we will get back to you.